Personalized Online Marquette Method Classes
Personalized, Comprehensive Marquette Method Classes
Our goal as Marquette Method instructors is to teach you how to achieve Marquette's 98%-99% correct use effectiveness rates.
The Vitae Fertility teaching system is founded on an integrated set of Marquette Method learning materials—presentations, manuals, and charts—that ensure you understand not just how to follow the Marquette Method instructions correctly, but also understand how and why the method works.
We created these resources with the permission of the Marquette Institute for Natural Family Planning, and they are available exclusively through Vitae Fertility.
We teach in one-on-one teaching sessions using a secure online video platform—our services are available to clients all over the world.
Daytime, weekend, and evening appointments are available — whatever suits your schedule best, regardless of what timezone you're in.
What's Included in Your Marquette Method Online Classes? 
All Vitae Fertility classes include private, one-on-one Marquette Method instruction tailored to your stage of fertility, follow-up sessions for a year, and an option to renew.
When you sign up, we'll send your our exclusive Marquette Method learning package in the mail, which includes a copy of one of my books, a blank chart, and a handful of Wondfo brand LH test sticks.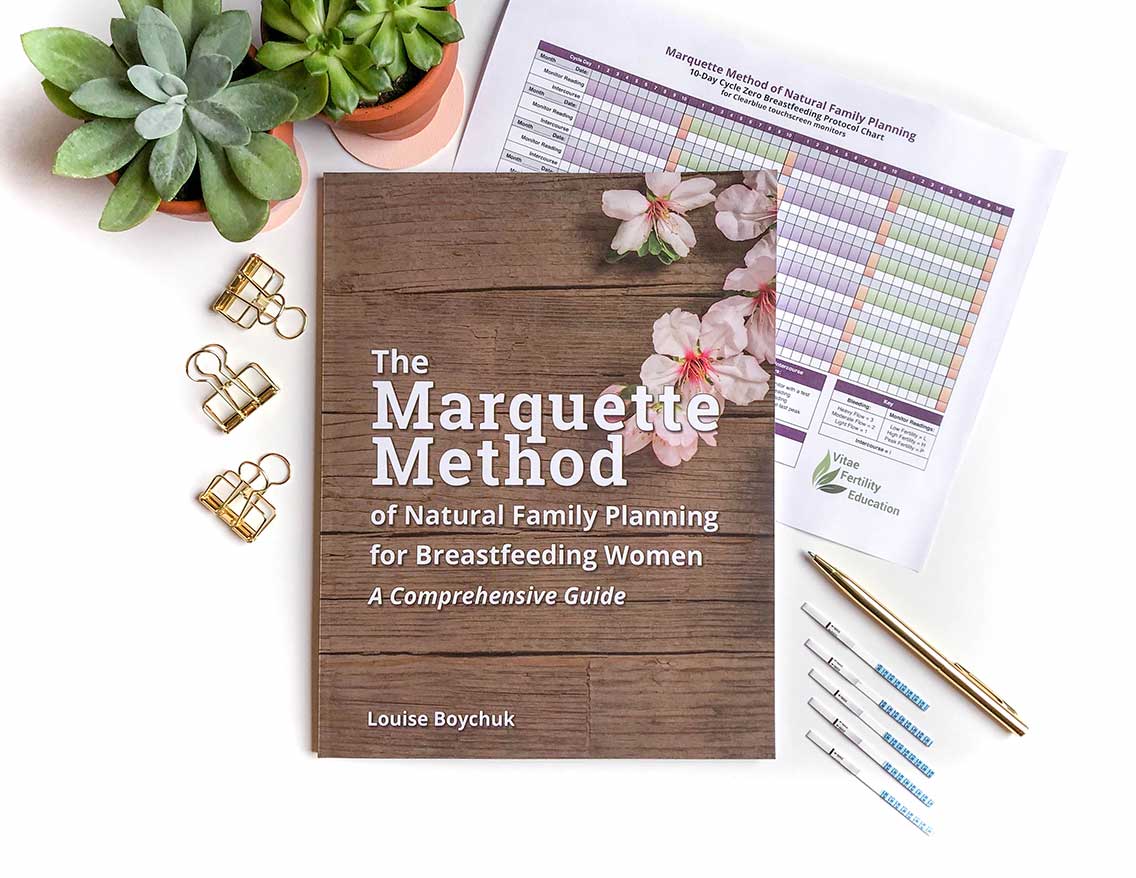 Vitae Fertility Classes All Include:
A private introductory Marquette Method class tailored to you
Vitae Fertility instructors only teach one-on-one. NFP is personal, and we want you to feel comfortable asking questions as you learn.
Your introductory teaching session will be tailored to your current stage of fertility. So, if you're breastfeeding you'll start by learning the appropriate Marquette Method breastfeeding protocol. Then, once your fertility returns we'll teach you the next set of protocols, in a follow-up session.
We have clients all over the world, so we teach around the clock. Daytime, evening, and weekend appointments are available. We can often offer last-minute appointments – get in touch to check our current availability.
Comprehensive Follow-up Support
During each of your follow-up sessions, your instructor will check in with you, answer your questions, and review your chart to ensure you know how to correctly apply the method to your actual cycles.
You'll have your instructor's full support for as long as you remain an active client. Your instructor will answer all of your questions as they come up and schedule additional follow-up sessions as you need them.
Prompt answers to all your Marquette Method questions
As a Vitae Fertility Education client, you'll be able to get in touch with your instructor anytime via email, text, or voice call.

You practice NFP every day. You deserve prompt and reliable answers to all your questions. We never want our clients worrying about what to do next when they have questions or things get tricky.
Your instructor will always provide you with advice that's tailored to you and your unique health and fertility history. Because Marquette Method instructors are nurses with a deep understanding of hormones and health, we are able to tailor the method to you, to ensure that the method remains highly effective while avoiding unnecessary abstinence.
A hard copy of my book, "The Marquette Method of NFP: A Comprehensive Guide"
I wrote two books on the Marquette Method of NFP, one for breastfeeding women and one for women in regular cycles. You can learn more about what's in the books, why I wrote them, and download previews of them here. When you register with Vitae Fertility, I'll put a hard copy the book corresponding to the protocols you will be following into the learning package I'll send to you in the mail. Later, if you change protocols, I will send you the other book.
These manuals, which I wrote with the permission of the Marquette Institute for Natural Family Planning, form the cornerstone to Vitae Fertility Education's integrated set of teaching materials.
I wrote them to complement professional instruction, so they are only available through us and as part of one of our comprehensive teaching packages.
Color Marquette Method paper charts
Our Marquette Method paper charts make tracking your fertility easy. We've designed charts specific to each protocol and monitor model, so you'll have a place for everything and everything in its place.
Our clients receive color charts as part of their learning package, and they are also available to anyone as a free download.
A starter pack of LH test sticks
In some specific situations, luteinizing hormone (LH) test sticks can be a valuable addition to a couple's Marquette Method practice.
Five LH test sticks are included in each learning package, so you'll have some on hand should you ever need them last minute. (And don't worry, your instructor will teach you when and how to use them, too!)
Option to renew after one year
After your first year, you'll have an option to renew your Marquette Method support for $120 per year.
As a continuing client, you'll continue to receive all the same benefits as you enjoyed in your first year, including continued access to your personal Marquette Method instructor, additional learning materials as needed, refresher and change-of-protocol teaching sessions as you need them.
 Get everything above for just:
$230 USD
Any Questions?
Have questions about the Marquette Method? I would be glad to answer any questions you have about the method or Vitae Fertility's training packages.
Click below to start your free, no-obligation consultation.
Ready to Get Started?
Fill out my online registration form and I will be in touch promptly to arrange payment and schedule your personalized teaching session.