You're engaged! Congratulations.
We were married in 2014. Our engagement was a beautiful period in our lives, filled with growth and colored by joyful anticipation for our new life together.
But it also came with a long to-do list. Dates and venues. Flowers and attire. Duck breast or beef tenderloin? If you're like us, you're going to be making a lot of decisions in the next few months!
So, here is a little road map to your next few months—from one Catholic couple to another.
Step 1: Enroll in Your Parish Marriage Preparation Program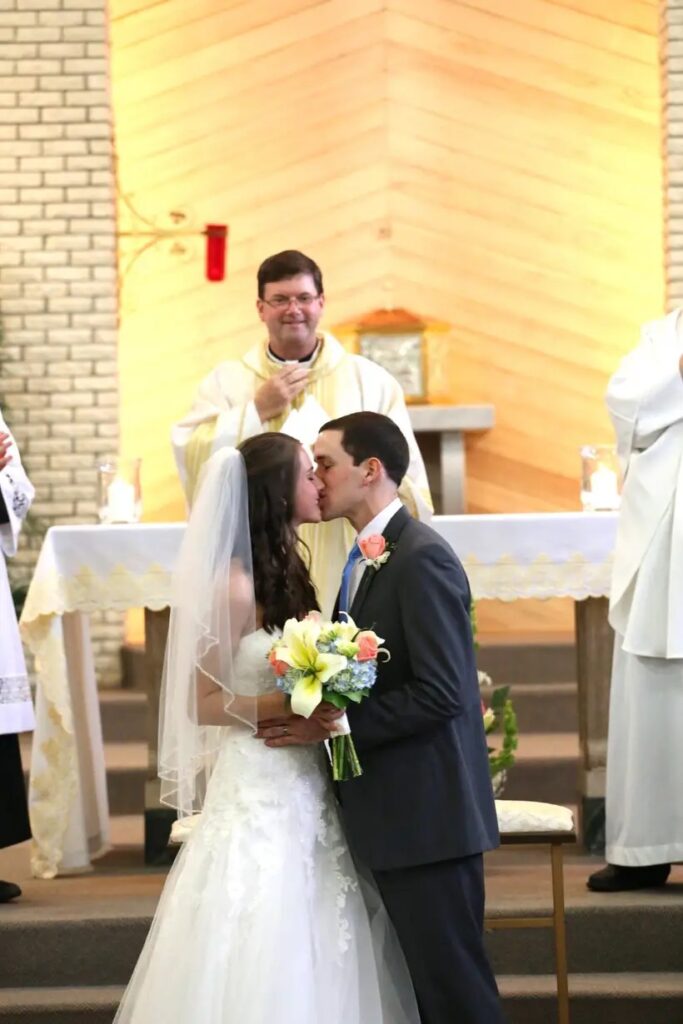 One of the first things you'll do, of course, is to stop by the parish office to announce your engagement. You'll need to book the date and the celebrant.
But remember—a wedding is a day; a marriage is a lifetime. Your parish will ask you to go through a Catholic marriage preparation program or process—the goal of this programming is nothing less than to prepare you to have a happy, holy, lifelong marriage.
The priest or deacon who will celebrate your wedding will either personally schedule pre-marriage counseling sessions with you or will assign this role to a person or organization he trusts.
In your marriage preparation classes you'll probably discuss some marriage "hot topics" (e.g. finances, children, family-of-origin culture differences). But don't worry—your marriage counselor will help you work through any difficulties.
Some parishes offer and run engagement retreats for couples getting married. This is a great opportunity to get away from the busyness of everyday life together and really focus on each other and the family you're building together.
Some popular engagement preparation courses include:
Choose your Mass Readings & Pray With Them
Part of planning your wedding ceremony is choosing which readings you will use.
There are many options for the first reading, second reading, psalm, and gospel. (You will probably be given a list of readings to choose from. If you want to get a head start, you'll find most of them here on the USCCB's site for engaged and married couples.)
I'll never forget that during the homily of our wedding, the priest said "Christ brought us here, and he gives us these readings as a gift."
My husband and I often go back to the readings of our wedding as a source of encouragement and light—"in good times and in bad."
Choosing your readings can make a wonderful date. Spend some time in the church after Sunday Mass or go to Adoration together.
And continue to pray with them throughout your marriage—remembering them as the gift that they are.
Choose your Natural Family Planning (NFP) method
Our grandparents had the "rhythm method," but science has advanced. Catholic engaged couples now have access to multiple effective, evidence-based natural family planning (NFP) methods.
"Natural family planning" refers to the family planning methods approved by the Catholic Church. It's a way of managing one's fertility without using pills, devices, or barriers. It works through fertility awareness. Women and couples how to "read" the language of their body. Women learn how to identify the fertile window (fertile days and infertile days) in each menstrual cycle.
You can use NFP to achieve pregnancy, postpone pregnancy, or avoid pregnancy. Couples who want to avoid pregnancy abstain from intercourse during fertile days. Couples who want to achieve pregnancy can engage in focused intercourse during the fertile window to increase their chances of becoming pregnant sooner. Intercourse outside of the fertile window is naturally infertile (hence "natural family planning"). On infertile days, couples aiming to avoid pregnancy can engage in intercourse freely.
It's helpful to begin charting your cycles with your chosen NFP method about 6 months prior to your wedding day. This will give you time to learn when you typically ovulate & give you some practice identifying your fertile window.
The more data you can collect about your fertile rhythms before your wedding day, the more precisely you'll be able to identify your fertile window in the first few months of your marriage.
Additionally, if you have any health issues, tracking your fertility during the months leading up to your wedding day can help you identify and potentially address them before you get married.
Step one to getting to start with NFP is choosing a method. Your diocesan website likely has resources and a list of local NFP instructors.
We run a free monthly webinar called "A Catholic Introduction to NFP" which discusses the similarities and differences between the methods in detail. We teach the Marquette Method of NFP, but we present all the methods in the webinar because we know that there's no such thing as one "best" method of NFP for every woman (you just need to find the best method for you.)
We also have a comparison chart of the different NFP methods which shows which methods track which fertile signs (and explains what "fertile signs" even means!)
Date your fiancé(e)
Back to the duck breast vs. beef tenderloin question. Believe me, planning and preparing for your wedding day is no small feat. It is easy to get overwhelmed.
It's important for you both to be able to step away from the "work" of wedding planning and enjoy each other's company. It does not have to be fancy or expensive. Dance in the living room. Make dinner together. Play a game.
But I truly recommend you set aside an evening each week to step back and look into the eyes of the one you love.
And maybe enjoy some of that beef tenderloin while you're at it.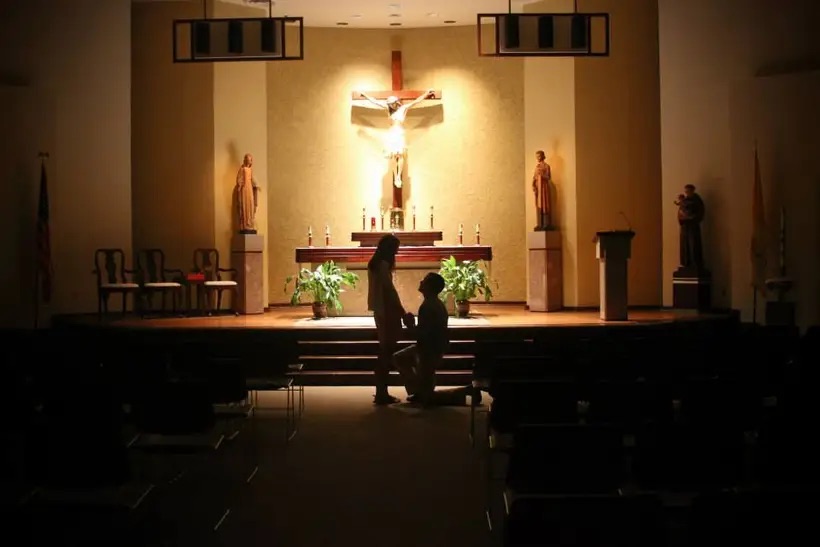 Encouragement
As a Marquette Method instructor, I have the honor of walking with many engaged couples on their journey towards marriage.
I asked one of my recent clients if she had any encouragement or advice that we could share with you.
Here is her beautiful response:
"My encouragement to any engaged couple is to embrace the engagement season! It can be a beautiful time of growth and anticipation of what the Lord is doing in your hearts in preparation for marriage and what is to come.
We were fortunate enough to feel an overwhelming amount of love and support from our friends and family during that season, which is something we will always cherish.
So, despite any stress or frustrations with planning (because we felt that too!), know that your wedding day will make you wish you could do it all over again!
Keep Christ at the center of it all and He will never forsake you.
As we worked to maintain our focus on the beautiful sacrament of marriage, we were able to feel at peace during times that could have been very chaotic.
Stay present and enjoy the little things only engagement has to offer!"
May God bless your engagement!